Menai Bridge or Porthaethwy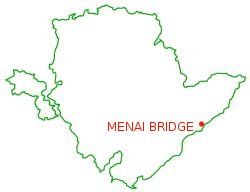 Porthaethwy , or the Port of Aethwy, is the Welsh name for Menai Bridge, Aethwy being an ancient Celtic tribe. This illustrates a common feature of place names, in that the English name is not a direct translation from the original Welsh. Of course, the English name would only have come into existence following the construction of the suspension bridge across the Straits in 1826. Prior to its construction, ferries carried people and goods across the Straits.
Menai Bridge is noted for its waterfront, with a promenade leading to St George's Pier. In Victorian times, pleasure boats regularly embarked from St George's Pier to Llandudno, a practice which still takes place today, albeit with less frequency. A modern walkway from the promenade leads to the berth for Prince Madog, a maritime research vessel belonging to the University of Wales, Bangor.
From the base of the Menai Bridge, one may walk in the direction of the Britannia Bridge along the Belgian Promenade. This was built by Belgian refugees during the Great War (1914-1918). The promenade skirts a hilly wooded area known as Coed Cyrnol, or the Colonel's Wood. There are a number of paths through the wood. However, if you continue along the promenade, it leads to a causeway connecting to Church Island or Ynys Tysilio. The path then goes around the outside of the island, at one point giving superb views towards the Britannia Bridge. The building in the middle of the Straits is Ynys Gorad Goch, or the island of the red weir. This is a private house, with two fish weirs, to catch fish at both states of tide in the Straits. Back on Church Island, a branch off the main path takes you to the church of St Tysilio, which dates back to the fourteenth century. Further information on Eglwys St Tysilio can be found on our Anglesey Chapels and Churches page.
Further details can also be found on our Menai Suspension Bridge page.