Moelfre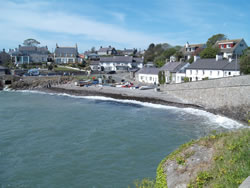 A picturesque seaside village, with a noted maritime history. Moelfre has a small harbour comprising a narrow cove with a high stone wall on the seaward side. Moorings are unusual, with boats generally being beached on the shingle bank. A walk along the coastal path from the beach takes in an old boathouse, the Seawatch Centre, the Royal Charter memorial, and the current lifeboat station. Continue along the path for views of Ynys Moelfre.
Dic Evans, Moelfre Lifeboat
In 2004, a statue was erected to the late Dic Evans, a coxswain of the Moelfre lifeboat who was twice awarded the Gold Medal of the Royal National Lifeboat institution, its highest award. The first award was for his work in the rescue of the crew of the Hindlea in 1959, and the second was for the rescue of those on the Nafsiporos.
The Seawatch Centre houses a collection of maritime memorabilia, including a former lifeboat. It also tells the story of the most famous ship to have been wrecked along this part of the coastline, the Royal Charter, which came to grief in 1859.