Church Bay, or Porth Swtan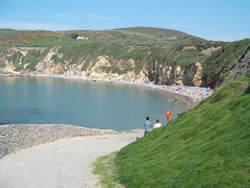 Porth Swtan translates to Whiting Bay in English, a reference to the historic importance of fishing as well as farming, as a means of earning a living in this somewhat isolated area. Nowadays, tourism may also be added, with the bay itself, beach, cliffs and rock pools making for an idyllic location.
As may be expected, Church Bay is on the coastal path. The route northwards takes you towards Carmel Head. The views are spectacular, and repay the effort required. The route southwards is less demanding, but no less interesting. Church Bay is also the home of the renowned fish restaurant, the Lobster Pot.
Swtan, Church Bay
Swtan is also the name given to a traditional whitewashed Anglesey cottage, now owned by the National Trust, and open to the public from about Easter until the end of summer. Swtan is the only remaining thatched cottage on Anglesey, and is now a heritage museum. The building was at one time little more than a pile of stones. It has been saved from dereliction, and was reconstructed literally from the ground up using the original floor plans. A traditional mix of lime, clay and straw was used as a mortar. The interior of the thatch would have consisted of gorse, covered with cloth to provide some limited thermal insulation. The cloth has been left out in order that visitors may seen the detail of the interior construction.
Swtan has adjoining animal and store sheds, in addition to a herb garden, the latter being maintained by the local Women's Institute. For details of hours and days of opening, contact the secretary of the Friends of Swtan, Margaret Owen on +44 (0)1407 730186.